Why Posting Fake Moving Reviews Can Only End Badly… for YOU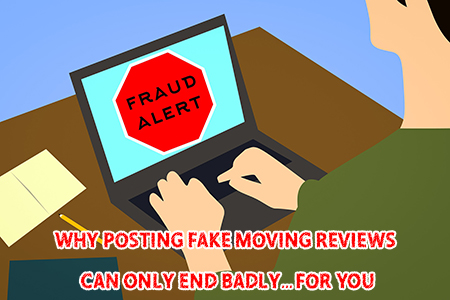 Everybody wants to hire an affordable and reputable moving company. And, of course, the best way for people to do so is to have somebody they know and trust recommend them a trustworthy mover.

However, when those people in need of professional moving services fail to get any recommendations for good movers from friends, co-workers or neighbors, they usually turn to online moving reviews for assistance and guidance.

In a perfect world, reading online consumer reviews about movers would suffice to help people hire a great moving company for their relocation needs.

In a world that is far from being perfect, like ours, reading movers reviews online may prove to be a rather confusing experience for people due to a phenomenon known as fake reviews.

In the unlikely event that you've ever paid, forced or pursued other people to write a fake review about a moving company, or you've been paid, forced or persuaded to do so, then you should definitely read on as this blog post contains extremely important information about the risks and dangers of writing fake reviews, as well as the consequences of such an act.
Why do fake moving reviews even exist?
Before we touch the subject of why posting fake moving reviews can get their perpetrators – individuals or businesses – into a world of trouble, let's explain really quickly why fraudulent moving reviews exist in the first place.
It all comes down to the fierce competition between the various businesses in a given industry or sector – the vicious fight for more customers, who in turn will bring in more profit for the companies. Yes, it's all about money, and it's not any different in the Moving and Storage Industry either.
There are so many professional moving companies on the market today that it can be really difficult for people to select a truly good mover – one that won't try to scam them in any way and one that will offer them high-quality services performed by experienced and competent movers.
Today, more and more people rely on online moving reviews to compare the moving companies in their area and pick one particular mover as their relocation partner.
And logic dictates that the more positive reviews and 5-star ratings a mover has, the better their online reputation will be, and therefore, the more people will trust and book their services.
Unfortunately, there are those dishonest moving companies that take advantage of that particular line of reasoning to lure more clients to purchase their services. But how do they do it?
To boost their online reputation, an unscrupulous moving company may choose to
post FAKE POSITIVE moving reviews about their own services, or
pay unprincipled individuals to post FAKE POSITIVE moving reviews about the company.
Did you know: Posting (paid) fake moving reviews is illegal
It's important to understand that posting (paid) fake moving reviews is not only immoral, unethical, misleading and unfair, but it is also illegal. And as such, it is prosecuted by the fullest extent of the law.
The Federal Trade Commission is the organization that is in charge of investigating such fraudulent cases and the authority to take actions as well.
Some businesses and individuals may think that posting a fake review, or a few false reviews for that matter, is not a big deal. However, they happen to be wrong.
To mislead customers on purpose is a criminal offense that may result in hefty fines or even in forcing a business to shut down for fraud. Depending on the nature of the fake reviews, they may lead to one of the following claims:
As you can see, posting fake reviews IS a big deal, SO BIG that the fraudulent activity could even lead to jail time.
Recently, a man was convicted and sent to prison for 9 months for posting fake reviews on TripAdvisor (read the whole story).
And even though this is one of the first documented cases of review fraud that has led to a criminal conviction, it surely won't be the last one.
Fake reviewers think they will get away with it. They won't.
The message is loud and clear: companies and courts are getting really serious about businesses and individuals posting and selling fake reviews.
We are now seeing more and more cases when reputable review websites such as TripAdvisor and Yelp have gone on the offensive against fake (paid) online reviews in an effort to protect consumers from being misled.
A few years back, Yelp sued a San Diego law firm for posting fake reviews on the review website from non-existent clients to influence the ratings. (Read the story)
Commerce giants such as Amazon and Alibaba have also shown that they will not tolerate review fraud – both companies have gone after companies and individuals who have engaged in posting fraudulent reviews.
Since 2015, Amazon has filed lawsuits against more than 1,000 people who have offered to sell or buy fake reviews. (Read the details)
Alibaba has filed a lawsuit against a company that links merchants with people who write positive comments aiming at increasing the seller's ranking on the portal. (Find more info)
As more and more people rely on reviews before purchasing specific products or services, review websites focus on fighting fraudulent reviews by using more and more enhanced algorithms and hiring fraud investigators to catch the perpetrators.
Not long ago, 19 businesses engaged in review fraud (called "astroturfing" – a form of false advertising) were caught in New York's "Operation Clean Turf". Here you can read more about how those businesses were hit with $350,000 in fines for posting fake online reviews.
One thing is clear: review websites will continue to do everything in their power to fight against fake reviews in order to provide consumers with more reliable information in today's competitive landscape.
Fake review filters are now better than ever
There's no doubt about it: sooner or later (understand sooner), (paid) fake reviewers will be caught and punished.
The majority of the online platforms for reviews and ratings have developed and implemented complicated software algorithms and even artificial intelligence modules that are capable of detecting and removing FAKE positive and FAKE negative reviews that have been posted on their websites.
Those review filters have been engineered to detect and delete fraudulent reviews but they can even go one step further: the cutting-edge review filters can now detect who posted the fake reviews. And once the identity of the fake reviewer is known, all the necessary measures will be taken to prevent the fraudulent activity from ever happening again.
As one of the most trusted moving reviews websites in the country, MyMovingReviews is dedicated to providing free unlimited access to genuine moving reviews left by real-life customers after they've completed their respective residential moves.
Rest assured that we take the issue of fake moving reviews very seriously.
Our advanced multi-level filtering algorithms work hard 24/7 to ensure that nothing but authentic moving company reviews and ratings are present on our moving reviews website.
The road to success is paved with professional integrity
The bottom line is that writing fake moving reviews in an attempt to boost a company's prominence is not worth it no matter how you look at it. As mentioned above, it's unethical, immoral, misleading, unfair, and more importantly – illegal.
Fake reviews could bring a short-term boost to a company's online standing but in the long run, those fraudulent reviews will ruin its reputation and may even destroy its business altogether.
The truth is that writing fake online reviews can land a business in serious trouble, and in the end, can cost that company more than they gained in sales or reputation.
There's only one good way for a moving company to increase its prestige: to work hard, like true professionals, and to provide high-quality moving services to their customers. In return, satisfied clients will be much more willing to leave honest and genuine POSITIVE reviews about the company's performance. And when that happens, it'll be a win-win situation for everyone.
Finally, it's important to note that, regardless of whether the perpetrator of a fake review is a business or an individual, it's never too late for them to undo what's been done and make things right again by deleting or deactivating their fake moving review(s).